Knowledge Resource
The Industry Standard for Pipeline Engineering Calculations for Over 20 Years
Case Study: How One Company Manages Pipeline Crossing Permissions
Download this in-depth case study to read how one busy energy company with an extensive pipeline network uses Pipeline Toolbox. They rely on Technical Toolboxes software to manage if and how neighbors and can cross over oil and gas pipelines all across North America. By replacing a less-capable in-house system, they saved time and millions in the capital while liberating engineers for more urgent tasks.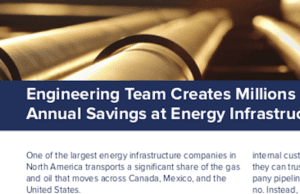 The Case Study tells you:
Why Technical Toolbox software outperforms in-house solutions

What the Company gains from PLTB specifically 

What PLTB has done for the team that uses it

How the Company's success exemplifies experience across the industry

And much more!