The Integrity Suite
Manage Integrity Across the Entire Pipeline Lifecycle
The Integrity Suite
The Integrity Suite provides engineering teams focused on pipeline integrity with the tools they need to manage pipeline integrity from design and construction, through operation and integrity, to record keeping.
Through the HUBPL platform's value-added tools, each of these software solutions can share data and entities between each other through one centralized data repository, so the need for repetitive manual data input is greatly reduced when compared to point solutions and internal spreadsheets, and all engineers are aligned using the same data and calculations.
Benefits of the Integrity Suite
Over 230 pipeline engineering calculations used by engineering teams on a consistent basis with several crossings-specific modules in the Pipeline Toolbox.
An intuitive semi-automated and GIS integrated design, planning, and verification application for pipeline pressure testing called the Hydrotest PowerTool.
An intuitive data analytics tool that compares current and historical ILI (in line inspection) data to identify trends and anomalies called Investigative Dig. This application is still in development and is currently included free of charge as part of the Integrity Suite to invite feedback and drive early adoption.
All tools are GIS integrated to provide visual representations of pipeline assets and automated elevation importation through the ESRI Map feature.
Automated report generation with a click of a button to fulfill TVC (traceable, verifiable, complete) documentation.
A centralized data repository for pipeline assets and reports through the Navigator and Report Builder features, so that when one pipeline asset is configured, it can be plugged into any tool on the HUBPL, and any associated fields can be auto-populated from the configured data.
Products in the Integrity Suite
Case Study: How One Company Manages Pipeline Crossing Permissions
Download this in-depth case study to read how one busy energy company with an extensive pipeline network uses Pipeline Toolbox. They rely on Technical Toolboxes software to manage if and how neighbors and can cross over oil and gas pipelines all across North America. By replacing a less-capable in-house system, they saved time and millions in the capital while liberating engineers for more urgent tasks.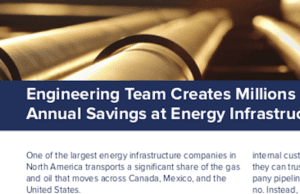 The Case Study tells you:
Why Technical Toolbox software outperforms in-house solutions
What the Company gains from PLTB specifically
What PLTB has done for the team that uses it
How the Company's success exemplifies experience across the industry
And much more!
Request a Demo
Technical Toolboxes offers cloud and desktop solutions that raise standards, maximize quality, and boost productivity. Please fill in your contact information to schedule a demo, and a Technical Toolboxes representative will follow up with you shortly.