The Hydrotest PowerTool
Create Complex Hydrotest Plans and Ensure Compliance
Hydrotest PowerTool Overview
Hydrostatic Pressure Testing is an essential tool to validate pipeline integrity if you are involved in pipeline design, construction, and compliance qualification. Very few commercial applications generate a comprehensive project plan and report that is suitable for action in the field.
The Hydrotest PowerTool is the one solution that meets the safety and regulatory demands of today.
           Quality Control for all pipeline data
           Productivity for maximum ROI
           Practicality for efficient Hydrotest planning and reporting
           Safety to protect your reputation, assets, and community
           Maintain the highest standards for account-ability and TVC record-keeping
The Hydrotest PowerTool is an intuitive semi-automated and GIS integrated design, planning, and verification application for pipeline pressure testing that ensures compliance with CFRs 192 and 195 for both new and existing pipelines.
It automates TVC (traceable, verifiable, complete) record keeping, diagnoses defects caused by accidents, assists in pipeline verification/recertification of MAOP, and generates an actionable project plan.
The Hydrotest PowerTool Overview Infographic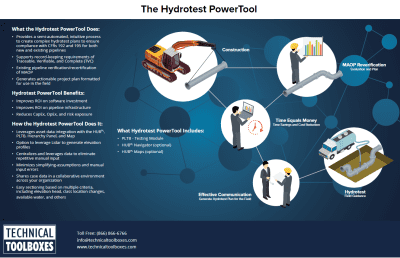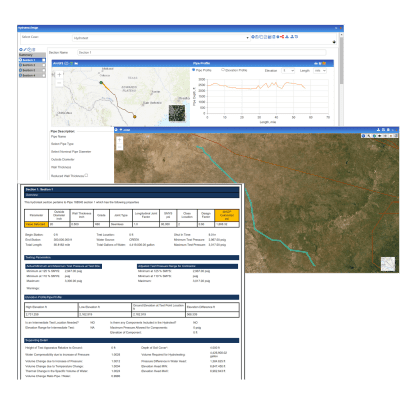 The Hydrotest PowerTool Video
Request a Demo
Technical Toolboxes offers cloud and desktop solutions that raise standards, maximize quality, and boost productivity. Please fill in your contact information to schedule a demo, and a Technical Toolboxes representative will follow up with you shortly.