Knowledge Resource
The Industry Standard for Pipeline Engineering Calculations for Over 20 Years
PRCI OBS Analysis and Reporting
The PRCI OBS software is the world standard for subsea pipeline design and stability analysis software. Learn about the features and benefits for your On-Bottom Stability computation, analysis, and reporting needs. This Comprehensive Technical Brochure explains everything you need to know so that you can make an informed choice about your subsea engineering calculation software. The Brochure explains the scope of the tools in the solution, as well as why they matter to pipeline engineers.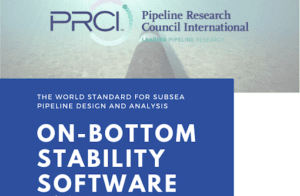 Read the brochure to find out about the PRCI OBS Software:
Works with Microsoft Windows versions 7, 8, and 10

3 levels of functionality explained

Comes with ample technical support

Evaluates pipelines, umbilicals, and fiber optic cables

Assesses shallow water limits

Analyzes piggybacked pipelines

Models hydrodynamics and soil forces

And much more!