Knowledge Resource
The Industry Standard for Pipeline Engineering Calculations for Over 20 Years
The Operational Engineers Buyers Guide for Pipeline Engineers
As an engineer in midstream pipeline management, a best-in-class software solution models your ongoing operations, protects your assets, and minimizes your financial and safety liability. There is, of course, much more to it than that. That is why we created the Operational Engineers Buyers Guide for Pipeline Engineers. This digital guide disentangles the complexities to answer the questions of what makes a complete pipeline operations software solution for the 2020s and beyond. The Operational Engineers Buyers Guide addresses the many needs of pipeline operations. It explains what goes into operations software and how data management innovations make it possible to expand the scope of your oversight.
Download the FREE ebook to read about: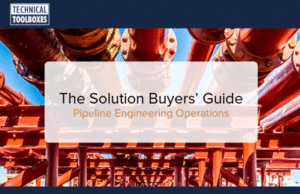 What the best software is a must-have in the industry

Seeing the Big Picture by combining maps and asset data

Transforming data management for new productivity

The keys to successful collaboration

What tools Technical Toolboxes offers Ops Teams

And much more!