Knowledge Resource
The Industry Standard for Pipeline Engineering Calculations for Over 20 Years
The Solution Buyers Guide for RSTRENG & Pipeline Corrosion Analysis
Choosing the right Remaining Strength Solution for your pipeline assets means having enough information to make informed decisions. Smart corrosion management is a game-changer in the battle to protect and extend the value of your key pipeline assets. Technical Toolboxes created the Solution Buyers Guide for RSTRENG and Pipeline Corrosion Analysis to help you understand the hidden potential of smart corrosion management. 
Download the Solution Buyers Guide for RSTRENG to find out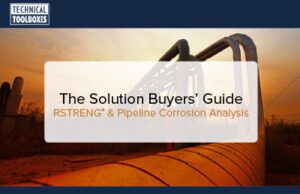 How In-line Inspection and Level-2 analysis with RSTRENG changed the industry

Why it is the only Federally mandated corrosion tool

How remaining strength calculations extend asset life and reduce risk

Which solutions build on RSTRENG to magnify its value to you

The Zero-out Method and the massive savings it offers

And much more!