Knowledge Resource
The Industry Standard for Pipeline Engineering Calculations for Over 20 Years
The AC Mitigation PowerTool ROI Guide
You already know the AC Mitigation PowerTool optimizes project efficiency; with the ROI guide, the rest of your team and clients can, too. Provide decision-makers and investors with easy access to evidence of the value of the AC-PT. 
The AC Mitigation PowerTool Guide provides transparent, detailed investigations of this PowerTool's functions, including specific examination of how the easy-to-use software interface translates into cost and time savings. The ROI Guide takes a deep dive into exactly how the AC Mitigation PowerTool achieves superior investment returns, including the software's capacity to solve multiple complex mapping and mitigation scenarios rapidly.
Learn how to translate the features of the AC Mitigation PowerTool into an improved ability to win bids, too. With the ROI Guide, you'll demonstrate the AC-PT's ability to lower the cost to your clients, increase your profit margins with a lower cost of service, accelerate project schedules without requiring additional staff, and dramatically reduce your operating expenses.
The AC-PT ROI Guide delivers examples of real-world applications and direct comparison to competitors' products. With the ROI Guide, easily access evidence of the superiority of the PowerTool. There is no need to worry about translating technical jargon; download the ROI Guide for a straightforward, detailed layout of the features and added value of the AC Mitigation PowerTool. 
As an essential Technical Toolboxes software application, the value of the AC Mitigation PowerTool is worth exploring. Keep this guide in your digital back pocket to reinforce your continued use of the AC-PT. Convince even your most demanding skeptics of the time and cost savings that come with every analysis and start making the most of your AC Mitigation PowerTool today!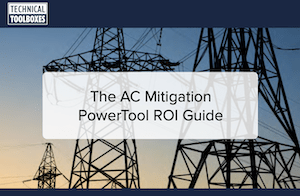 Download the AC Mitigation PowerTool ROI Guide to read about:
Improved ROI with use of the AC-PT

Fact-based examples and applications of the PowerTool

How the AC-PT more efficiently maintains PRCI integrity

How the AC-PT minimizes the iteration time

Maximizing service profit margins with higher AC Mitigation PowerTool ROI

Expanding access to operators for in-house studies

Improving your ability to win bids

Ease of use of the PowerTool software