Knowledge Resource
The Industry Standard for Pipeline Engineering Calculations for Over 20 Years
The API 653 Reporting Recorded SME Webinar and Accompanying eBook
On November 10th, Technical Toolboxes and Eagle Inspections' Owner Jeff Walling held an informative online webinar event about API 653. You can watch the event in its entirety here. This information-packed event also has an accompanying guide, which you can download below. If your business or skillset has a stake in API 653 inspection, the webinar is the perfect opportunity to learn from the expert. In the video, you'll hear answers from the inspector who is the driving force behind the API Inspectors Toolbox. Mr. Walling provides an overview of the Code and how the API Inspectors Toolbox works within Technical Toolboxes' Integrated Data Environment to reduce risk and increase productivity. Attendees to the live event had the chance to participate, share their thoughts, and have questions answered by Mr. Walling and the team.
Download the Accompanying eBook
API Inspectors face daily challenges onsite and in the office. Inspection reports must accurately reflect the facts on the ground, measured against demanding industry standards. Liability is an ever-present specter that lingers over Aboveground Storage Tanks and the API 653 inspection reporting process. The event's FREE downloadable eBook allows you to follow along and review the software's capabilities.
Mr. Walling is a veteran of the profession and the original author of our API inspection and reporting solution. Technical Toolboxes is grateful for the opportunity to collaborate with him and tips about increasing ROI for the reporting process. His input and feedback were vital to the event and formed the foundations of this guide.
As part of our mission to provide thought leadership for the industry, Technical Toolboxes hosts live webinars regularly. These events cover diverse topics relating to the industry. For example, popular events have included blasting in the right-of-way, hot tapping, HDD, and of course, API inspection. The free webinars offer a taste of the online professional development courses with which we support the industry.
Download the eBook to read about: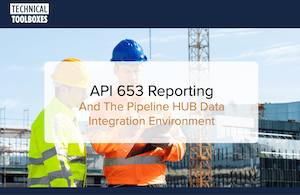 The critical challenges in API 653 inspection, analysis, and reporting

Where the profession is heading and why data integration matters

What data integration brings to API Inspection workflows

How the API 653 Aboveground Storage Tank Module has revolutionized AST Inspection

And much more!