Knowledge Resource
The Industry Standard for Pipeline Engineering Calculations for Over 20 Years
The Pipeline Engineering Solutions Buyers Guide
for Oil and Gas Excellence
The Pipeline Engineering Solutions Buyers Guide is a free download. The eBook gives you a higher-level understanding of the factors to consider in selecting your solution. In it, you'll read about maximizing data integration benefits. Also, you'll learn about solutions from Technical Toolboxes, like the Pipeline Toolbox (PLTB) from Technical Toolboxes. Critically, it tells you what to expect from digital pipeline engineering software. The Buyers Guide outlines how the best solutions transform the way users manage data and workflows. So, download and read it to arm yourself as you evaluate your data integration options.
Looking ahead, in the 2020s and beyond, we can expect interesting times. Now, anything that can be defined can be measured, analyzed, and improved. In preparation for this future, the Pipeline Engineering Solutions Buyers Guide outlines how to respond. When you read it, you'll see how solutions from Technical Toolboxes work. For example, how the Pipeline HUB and PLTB are force-multipliers for engineering workflows. Tools like these make a crucial difference in successful pipeline engineering and safe operation.
As all pipeline engineers know, the solution you choose must deliver quality, productivity, and safety, wrapped in a significant company SOP. Download this FREE eBook to find out how deploying your data in new ways gives you a competitive edge in turbulent times.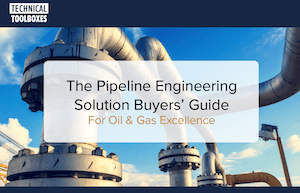 Learning and Benefits:
Respond to the new PHMSA Mega-Rule

Facilitate greater oil and gas pipeline safety

Learn how to improve ROI by transforming data management

See how software reduces expensive analytical errors 

Find out how to retain valuable knowledge with SOPs

And much more!