Pipeline Toolbox Overview
PIPELINE ENGINEERING SOFTWARE & INDUSTRY TRAINING THAT SET THE PRODUCTIVITY STANDARD
Pipeline Toolbox Enterprise Edition
Today's pipeline engineers must be able to access reliable data at a moment's notice. Spreadsheet systems do not cut it at the corporate scale. Manual systems introduce the risk of human error into pipeline calculations, as data can be inadvertently changed by individual users. In-house solutions lack the capabilities and industry standards of dedicated solutions. Additionally, these systems take days or even weeks to calculate the data required for design, installation, or repair, or audit.
The Enterprise Edition of Pipeline Toolbox includes the applications for both gas and liquid pipelines. It is an industry-leading dedicated solution, ensuring that all engineers are seeing the same data and are able to make calculations at critical moments throughout all stages of the pipeline lifecycle. Gas-only and liquid-only versions are available.
Pipeline Engineering Challenges
Pipeline Toolbox from Technical Toolboxes
Fortune 500 oil and gas pipeline operators are some of the many supply chain service companies that rely on Pipeline Toolbox to enhance their pipeline engineering performance. With 230 applications, engineers using Pipeline Toolbox are able to solve many of the daily questions that arise in pipeline design, construction, operations, and integrity. Pipeline Toolbox is now integrated into the Pipeline HUB (HUBPL) platform. This paves the way for automating integration and analyses to reveal insights into the design and operational fitness of your assets and infrastructure solutions.

Frequently
Asked
Questions
Next Steps
Request a Demo
Technical Toolboxes offers cloud and desktop solutions that raise standards, maximize quality, and boost productivity. Please fill in your contact information to schedule a demo, and a Technical Toolboxes representative will follow up with you shortly.
Case Study: How One Company Manages Pipeline Crossing Permissions
Download the free case study to find out how one customer uses Pipeline Toolbox. The Company manages how neighbors and can cross over oil and gas pipelines all across North America. By replacing an in-house system, they saved time and millions in capital, while liberating engineers for more urgent tasks.
The Case Study tells you:
Why Technical Toolboxes outperforms in-house solutions

What this Company gains from PLTB specifically 

What PLTB has done for the team that uses it

How their success exemplifies experience across the industry
The Industry Standard for Pipeline Engineering Calculations for Over 20 Years
The Pipeline Engineering Solutions Buyers Guide for Oil and Gas Excellence
The Pipeline Engineering Solutions Buyers Guide gives you a higher-level understanding of the factors to consider in selecting your solution. In it, you'll read about maximizing data integration benefits. Also, you'll learn about solutions from Technical Toolboxes, like the Pipeline Toolbox (PLTB) from Technical Toolboxes.
With the latest data technology, anything that can be defined can be measured, analyzed, and improved. In preparation for this future, the Pipeline Engineering Solutions Buyers Guide outlines how to respond. Download this FREE eBook to find out how deploying your data in new ways gives you a competitive edge in turbulent times.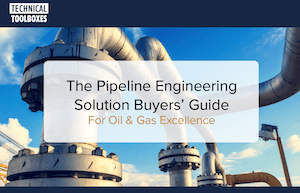 Learning and Benefits:
Respond to the new PHMSA Mega-Rule
Facilitate greater oil and gas pipeline safety
Learn how to improve ROI by transforming data management
See how software reduces expensive analytical errors
Find out how to retain valuable knowledge with SOPs
And much more!
The Industry Standard for Pipeline Engineering Calculations for Over 20 Years