Knowledge Resource
The Industry Standard for Pipeline Engineering Calculations for Over 20 Years
The Pipeline Integrity Applications Webinar: An Integrated Approach to Integrity and Corrosion 
On December 15th, 2021, Technical Toolboxes hosted a live 1-hour webinar event about maximizing the value of pipeline integrity management solutions entitled Pipeline Integrity Applications Webinar. The video is the recording of that event. If your role is in pipeline engineering and/or it involves managing integrity or the fight against corrosion, watching the recording is a worthwhile investment of your time.
The theme focuses on how to get the most out of pipeline engineering applications. So, if your role in pipeline engineering involves managing integrity, the fight against corrosion, or various asset inspection types, this webinar recording gives you an overview of solutions from Technical Toolboxes. It's the big-picture perspective for corrosion engineers, integrity managers, inspectors responsible for corrosion, and anyone who wants to get the most out of pipeline engineering applications.
In the video, featured speaker and senior engineer, Joe Pikas, relates stories from his many years of experience in the industry. Mr. Pikas talks about what happens in the real world, how to improve integrity solutions, and what lies in store for pipeline engineers in the future. 
It was an interactive event, so attendees asked many questions in an extended Q&A session. In the responses about the critical issues and future of integrity management, have your pressing questions on the topic answered in real-time. The Pipeline Integrity Applications Webinar conversation touches on integrity management, hydrotesting, pipeline inspection, encroachment management, or any other activities related to pipeline integrity to learn about integrity tools from Technical Toolboxes.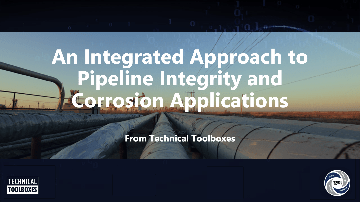 Check out the Pipeline Integrity Applications Webinar recording to see:
How to get more from RSTRENG and other vital corrosion tools

New perspectives on integrity management

Solutions that reveal new value in old data

Responses to the most pressing industry questions

Find out what's ahead for Integrity Management