Knowledge Resource
The Industry Standard for Pipeline Engineering Calculations for Over 20 Years
The Impact of Blasting on Pipelines Recorded Webinar Event and Accompanying eBook
As a pipeline engineer, you may not often need to account for the impact of blasting on pipelines, but when you do, you have to do it right. This recorded webinar event about the effects of blasting on pipelines is a rare opportunity to hear about blasting calculations from an expert. Watch the video and download the FREE accompanying eBook Guide for an insightful overview of everything you will need to know.
Download the Accompanying eBook
As a pipeline engineer, it's vital that you understand the impact of blasting on pipelines due to any adjacent operations that employ explosives. Watch the webinar event with industry-leading expert Dr. Benjamin Zand, learn about what's involved. In the video, you will also hear about the Pipeline Toolbox module for the impact of blasting on pipelines. In it, you'll see how it simplifies the workflow when your neighbors need to resort to commercial explosives. The accompanying eBook, The Pipeline Toolbox Essential Blasting Principles and Analysis for Pipeline Engineers, provides a reference to the calculations discussed in the webinar and interesting reading for engineers.
As part of our mission to provide thought leadership, Technical Toolboxes hosts live webinars regularly. These events cover diverse topics relating to the industry. For example, popular events have included blasting in the right-of-way, hot tapping, HDD, and of course, pipeline engineering calculations. The webinars offer a taste of the online professional development courses with which we support the industry.
 Download the eBook to read about: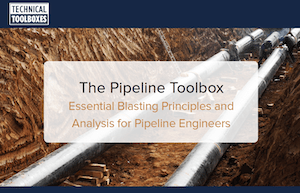 How shockwaves propagate through the ground and interact with buried pipe

The path to proficiency on the impact of blasting on pipelines

Protecting your valuable pipeline assets from ground-shaking blasts

How the Pipeline Toolbox provides tools to analyze proposed blasting parameters

And much more!