Knowledge Resource
The Industry Standard for Pipeline Engineering Calculations for Over 20 Years
The Solution Buyers Guide for Midstream Engineers
The Solution Buyers Guide for Midstream Engineers explains why the midstream environment for pipeline engineering has never been more intense. Covid-19 piled in on top of a volatile market, changing so rapidly that operations managers and senior engineers need the broadest set of tools. Those that have information-rich solutions will have a distinct advantage over their less well-informed peers. Efficient data management and collaborative engagements offer hope, but how do you access them in a timely, productive manner? The Solution Buyers Guide for Midstream is a downloadable eBook resource that explains the factors and trends that will help you thrive in uncertainty.
Download the FREE eBook to read about: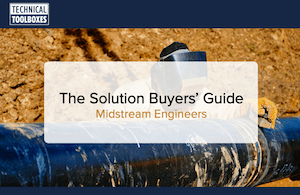 How to perform engineering calculations faster

Implementing improved workflows and 

Reducing the data management workload

Combine data to see the big picture

Unleashing growth through collaboration

And much more!