Knowledge Resource
The Industry Standard for Pipeline Engineering Calculations for Over 20 Years
AC Mitigation PowerTool Overview Infographic Download
The AC Mitigation PowerTool Overview shows you what the AC Mitigation PowerTool does, how it saves time and expense, and what the tool includes. As a visual infographic tool, the overview lays out all the remarkable benefits you get by implementing it as a solution. The infographic maps out the essential factors and shows how you can develop cost-effective mitigation strategies along many miles of pipeline sections in the right of way and the hazards of proximity to power lines. It gives you the big picture of how the PowerTool reduces OpEx, lowers risk, and accelerates project schedules.
The corrosion-inducing influence of the electric and magnetic fields emanating from high-voltage power lines are unavoidable hazards that pipeline networks face. Technical Toolboxes has optimized the solution for busy pipeline engineers by releasing the AC Mitigation PowerTool. It addresses all the aspects of AC Mitigation that demand time and attention. Ultimately, it equips engineering teams, operators, and service providers with a newfound capacity for efficiency and productivity. The AC Mitigation PowerTool is designed for pipelines and not adapted from electrical engineering tools. Instead, it leverages proven PRCI pipeline engineering technology.
Whether you design pipelines, manage integrity, or own networks that span continents, the AC Mitigation PowerTool gives you the calculation and modeling capabilities you need in one package. Download and study this overview infographic to understand the AC Mitigation PowerTool from Technical Toolboxes. It's a concise summary of this exceptional software's purpose, capabilities, and benefits and to expand your expertise so that you can make informed software choices when the time comes.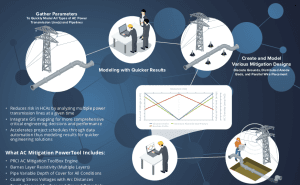 Download the FREE infographic to see:
What the AC Mitigation PowerTool does

How the software does it

What benefits the PowerTool delivers

The functionality included in the package

Where it fits in the Pipeline HUB's Integrated Data Environment