Knowledge Resource
The Industry Standard for Pipeline Engineering Calculations for Over 20 Years
AC PowerTool Success Stories Map Out Best in Class Mitigation
AC PowerTool Success Stories ebook, in which you will learn exactly how industry experts like you are making the most of Technical Toolboxes' advanced software capabilities. In this ebook, multiple user success stories provide keen insight into how the unique features of the AC Mitigation PowerTool (ACPT) application generate practical, easy solutions for even the most complex of corrosion mitigation scenarios.
Stop worrying about wasting time as your software program generates solution scenarios. Once you map your pipeline and powerline specifications into the ACPT, the software generates multiple mitigation solutions fast, allowing you to determine which solution makes the most sense for your project budget, resources, and timeline.
ACPT equips engineers, operators, and consultants like you with cutting-edge software to generate rapid mitigation solutions for AC corrosion scenarios. With the AC PowerTool, practical mitigation strategies are at your fingertips, saving time and expense while accelerating project timelines. With the ebook, you will discover how you, too, can access the most efficient pipeline AC corrosion and shock hazard mitigation solutions through the AC Mitigation PowerTool.
Find out exactly how other users have applied the ACPT's intuitive interface and advanced reporting tools by letting the numbers speak for themselves. These features make the ACPT easy to use when mapping pipelines, generating complex corrosion mitigation solutions and maintaining compliance.
Complete integration into the Technical Toolbox HUB gives ACPT access to analytical tools, resources, and applications to create the most advanced and comprehensive mitigation solutions faster than ever. Automated calculations and reports dramatically reduce the time required to identify and implement safe, effective solutions.
Read the AC PowerTool Success Stories eBook to learn more about the state-of-the-art features of the AC PowerTool software today!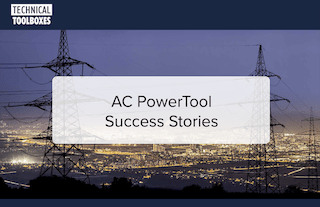 Download the FREE ebook to read about:
Dramatically reducing time spent iterating calculations

Reducing project costs with more efficient solutions

Accelerating project timelines with rapid results for the most complex scenarios

Automatically generating advanced reports

How

AC PowerTool Success Stories

accesses

integrated HUB

TL

resources and applications