Knowledge Resource
The Industry Standard for Pipeline Engineering Calculations for Over 20 Years
API Inspectors Toolbox Success Stories
Industrial storage tanks, pressure vessels, and the associated pipework: How do you analyze assets in the field, research the Code, and write inspection reports? If you use the API Inspectors Toolbox, you know why we're so proud of it. If you don't, there are a few secrets to why inspectors who do, love it.
Technical Toolboxes has compiled this informational eBook from interviews with API inspectors and integrity managers who use the API Toolbox. They told us why they love its power to produce a superior standard of API reporting. The eBook tells the stories of inspectors and integrity managers who use this unique software to boost their productivity, the quality of the reports they deliver, and how it protects them from liability.
Read how inspectors use the API Toolbox to cut costs, save time, and produce superior inspection documentation under APIs 510, 570, and 653. Whether you perform inspections or hire contractors who do, The API Inspectors Toolbox Success Stories shows how to get outstanding results from your API inspection tools.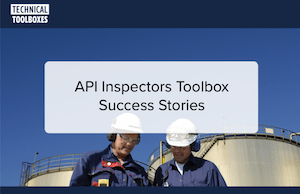 Download this Free eBook to read about:
Which inspections get the most out of APITB
How to use data to facilitate collaboration
Where to find every Code and technical reference
Which software features inspectors value the most
How to deliver hundreds of thousands in added ROI
And much more!