Knowledge Resource
The Industry Standard for Pipeline Engineering Calculations for Over 20 Years
API Inspectors Toolbox Overview Infographic
API Inspectors Toolbox Overview shows you why Technical Toolboxes is the leading provider of software, online resources, and technical training for API Inspections. It is used widely by Tank, Vessel and Piping Engineers, and API Inspectors worldwide. API Inspectors Toolbox (APITB) is now available as a Software as a Service (SaaS) product, enabling testing, inspection and certification companies, API inspectors, asset owners, and operators to maximize their operating cash flow for reduced operating costs and higher productivity. 
APITB gives you an efficient report generation tool backed by industry standards. It includes an exhaustive list of the reference standards required for accurate reporting, which reduces the need for cross-referencing by 95%, drastically reducing report preparation time and rework. APITB addresses the API 510 inspection code for all refining and chemical process vessels, the API 570 inspection code for all metallic and FRP piping systems and their associated pressure-relieving devices, and API 653 inspection code for Above Ground Storage Tanks of different types and sizes. 
Engineers and API inspectors alike access APITB remotely anytime to produce inspection reports that meet industry standards in the most time and cost-efficient way independent of the office location that produced it. The comprehensive reporting capability for API 510, API 570, and API 653 compliant inspection reports effortlessly and includes all associated calculations and attachments. 
Notable global customers include the ABB Group and Intertek. According to one of the API Toolbox customers, "What used to take hours of filling out forms, gathering information, documents and required forms, now takes minutes to complete a full report." 
The API Inspectors Toolbox Overview Infographic lays out what APITB can do for you and will show you how this innovative application makes a radical difference in inspection and reporting. Read what the software does, how it does it, and what the package includes. APITB is an efficient report generation tool that addresses API 510, 570, and 653 reporting. It brings together on-site data-gathering workflows with office-based code researching, referencing, and report writing in one application.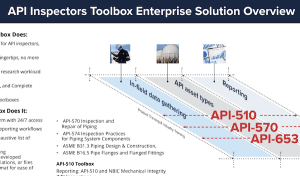 API Inspectors Toolbox Overview illustrates how APITB achieves the following:
Accelerates project schedules 

Ensures calculation integrity

Provides rapid design code referencing

Gathers and shares inspection data

Capture more complete data for analysis

Delivers cloud-based publishing functionality 

And much more!