Your 2023 new year's resolution?
Ditching spreadsheets to manage pipeline engineering data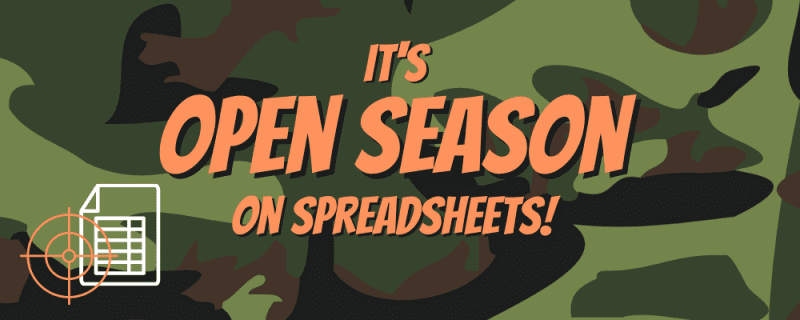 The new year is always a time for reflection and new beginnings. It's a time to be looking at what's working, what's not working, and what you want to change going into the new year. This includes personal goals, but of course professional ones as well.  
And if you're still using Excel spreadsheets to manage engineering pipeline data, you might want to consider leaving them in 2022 as well. Let's be honest. Using spreadsheets to manage pipeline engineering data is a huge pain. You know it, we know it, and yet so many engineers don't seek out a better way of doing things. From input errors to version control issues, and the inability to share and update information consistently across teams and other tools, spreadsheets are a problem.  
We recently ran a tongue-in-cheek hunting-themed "Open Season on Spreadsheets" contest where we asked to hear some of the horror stories from pipeline engineers around what they've encountered using spreadsheets to manage pipeline data through the years. And we weren't disappointed with the responses!  
Like this 11
th
hour night-time phone call that James received: 
"I am a pipeline engineer that deals with my company's line lowering/replacement projects. The Horizontal Directional Drilling company that we hired sends us a proposed drilling path and an actual drilled path so that we can calculate if the path adds any additional stress to the pipeline. This is done by entering the change in elevations of the pipe into one of our many calculation spreadsheets. 
The night before the pipe is planned to be pulled into the hole, I get a call from another engineer who is frantic saying that the actual drilled path will not work as is adds to much additional stress according to our spreadsheet. 
My heart nearly jumped out of my chest and all I could think of is how am I going to tell the HDD company and my boss that the path we approved will now not work. 
Once digging into the problem, it was found that during the transfer of files, the pipe grade was changed in the spreadsheet to a much lower grade. A copy and paste error almost doubled the project cost and would have delayed several other projects that relied on this line replacement to be finished before they could begin. 
Lesson Learned: Always double check the data when using copy and paste to transfer info from spreadsheet to spreadsheet." – James, Mechanical Engineer at a pipeline operator 
Or another of our favorites from Arash, who had his seven team members calculate pipeline flow using spreadsheets, the only problem being he got seven different answers:  
I used to manage a pipeline integrity team, and to support our upstream clients, we used to use spreadsheets to calculate the pipeline's flow rates, fluid velocity, corrosion rate and risk for gathering systems (hundreds of pipelines and wells). While everyone was trained on the tool, I once created a dummy oil field and got our team of 7 people to do the assessment.
Funny enough, I received 7 totally different results. At that point I went to our CEO and told him we need a proper software. – Arash, Engineering Director at a pipeline service provider  
Spreadsheets can be an everyday problem 
As the stories above highlight, using Microsoft Excel to manage pipeline engineering data can cause at minimum some late night phone calls and headaches, and at maximum hours or days of lost productivity and frustration. Many pipeline operators and service provides are looking to replace them with software for the following reasons:  
Manual data entry: this makes pipeline engineering data susceptible to human error, in fact research suggests that 90% of spreadsheets have errors and half of spreadsheets in large organizations have "material defects." This can have catastrophic consequences in the pipeline industry.  
Data silos: 89% of IT leaders today consider data silos to be one of the leading obstacles of digital transformation. Spreadsheets limit the ability to share and update data across teams, which is critical for the broad range of data and historical information required to make pipeline decision.  
Lack of standardization: pipeline engineering data living in spreadsheets on a shared drive rarely keep up the required standardization of data practices across new personnel, new data entry, or larger events such as a merger and acquisition. This makes projects difficult to scale and continue over time. 
You guessed it – there is a better way! 
Technical Toolboxes offers an integrated cloud platform for managing pipeline engineering data across crossings, integrity, corrosion, welding, and more.  
Our Pipeline HUB provides one interface for all teams to calculate and share pipeline integration across teams. It's GIS integrated and allows the ability to associate pipeline data and physical assets, providing a single source of truth across teams.  
Further, it allows the automation of workflows based on pre-configured industry standards (such as those from PRCI) in order to speed up projects. Reporting is also simplified and automated.  
Moving away from spreadsheets to our Pipeline HUB allows pipeline engineers to accelerate project schedules, lower CAPEX and OPEX, and reduce risk in calculations. The combination of industry-standard engineering applications paired with data and reporting from our platform ensures engineers are able to make decisions quickly, safely, and in accordance with industry standards.
 
 

Spreadsheets

 

Our Software

 

Data Quality Control

 

No

 

Yes

 

Automated Calculations

 

No

 

Yes

 

Simplified Reporting

 

No

 

Yes

 

Centralized Data 

 

No

 

Yes

 

GIS Integration

 

No

 

Yes

 

Auto-filling Asset Information

 

No

 

Yes

 
Start fresh in 2023 – leave your spreadsheets where they belong (in 1995)
So as you think of what you'd like to change professionally in 2023, think about ditching your spreadsheets next year – from speeding up daily calculations and improving happiness to legitimately decreasing project OPEX and CAPEX at the company level, a switch to software has a lot of benefits.  
And it's never too early to make the change – reach out to one of our Engineering Performance Advisors today to get consulted on moving your calculations to our platform!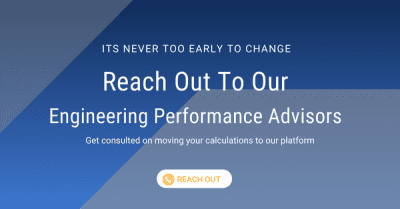 Please follow and like us: